Let's start by exploring the Personal Workspace , which is what you see after you log in.
Home Page
Your Home page contains the following information:
Workspace type
Sites
Account tier
Sandbox sites used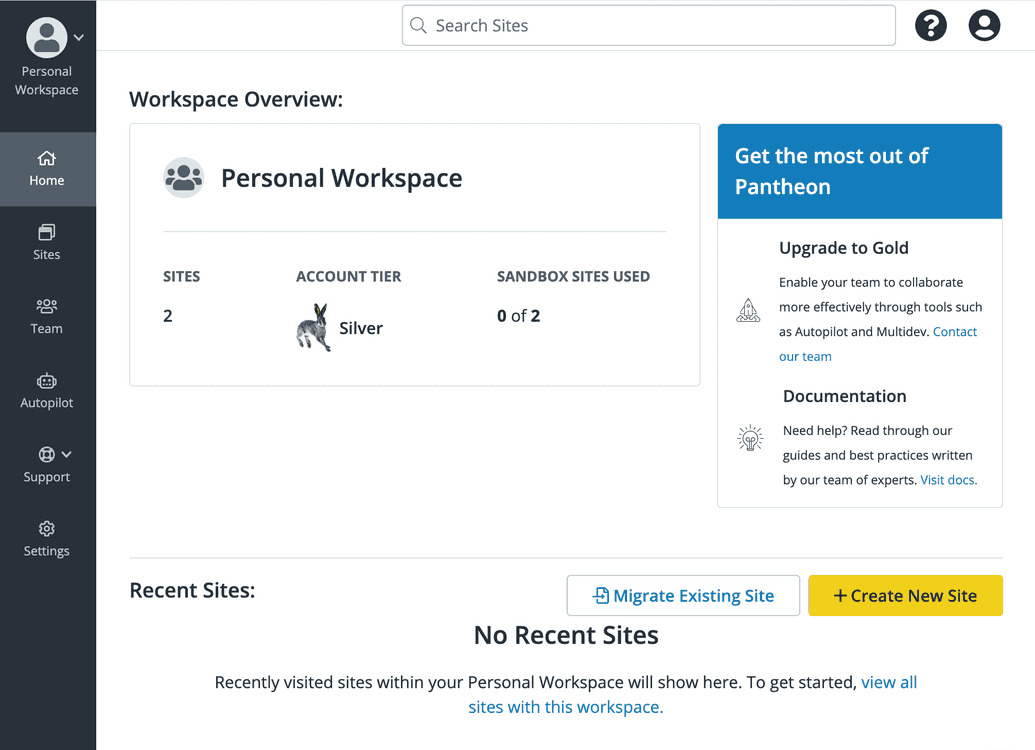 Tabs
The navigation bar on the left contains several additional tabs to help you manage your sites:
Sites: Add a new site, view sites you're a team member of, and check how many free sites you have remaining. Return to this page by clicking the Pantheon logo.

Create New Site: Start the process of creating a new site on Pantheon. New sites will appear under the Sites tab.

Migrate Existing Site: Start a guided migration to add a site. If you're importing a site from your local environment, follow our manual migration process. For information about migrating a site from a competitor, or other migration scenarios, refer to Migrate Sites to Pantheon on our Get Started page.

Team: If you belong to an organization, you'll see it listed here. Click the organization name view the organization's dashboard.

Autopilot: Autopilot is Visual Regression Testing (VRT) for every WordPress and Drupal Site within your Workspace.

Support: View details of an open support request or create a new support request. Our chat-based support is available 24-hours a day.

Custom Upstreams: Create a new Workspace-specific Custom Upstream using a GitHub or Bitbucket repository. Custom Upstreams allow you to use an external repository as a template for your site.

Settings: Modify the Workspace name, logo, billing information, and if your Organization is configured for it, billing terms and instructions for your team.
Account Settings
Click your user icon in the upper right corner to update and manage your personal account information.
Profile: Update your user profile information, or connect your Google account to Pantheon.

Account and Security: Change your account email password.

Notifications: Select the notifications you wish to receive.

SSH Keys: Add and manage your SSH keys.

Machine Tokens: Use machine tokens to uniquely identify your machine and securely authenticate with apps such as Terminus.

Preferences: Flip the toggle to Off to use the old dashboard.
 Note
The Platform logs users out after 24 hours of inactivity, and forces all users to log back into the Platform every 30 days. This includes all users authenticated via Terminus.