Pantheon automatically backs up your site. You can manage your site's backup files in the Backups tab of your dashboard. Each backup contains three components:
Code: anything version controlled and committed via the Site Dashboard. Uncommitted SFTP changes to code are not backed up.
Database: a mysqldump of your site's db.
Files: images and assets stored in the standard upload path wp-content/uploads for WordPress and sites/all/default/files for Drupal. Various content generated by your application is not backed up. For example, generated images from image styles and aggregated CSS and JS assets, are not backed up.
Automatic Backup Schedule and Retention
Daily backups are scheduled automatically.
All sites: You can run manual backups for free, and choose to keep them for one month or six months.
Paid sites: You can enable or disable automatic backups. A nightly backup is created and stored for a week and your weekly backup is stored for a month when automatic backups is enabled.
Select the Day of Your Weekly Backup
You can select the day you want your weekly backup to be created.
Navigate to your site's dashboard.

Click Backups and then click Backup Schedule.

Select the day from the drop-down menu and then click Update Weekly Backup Schedule.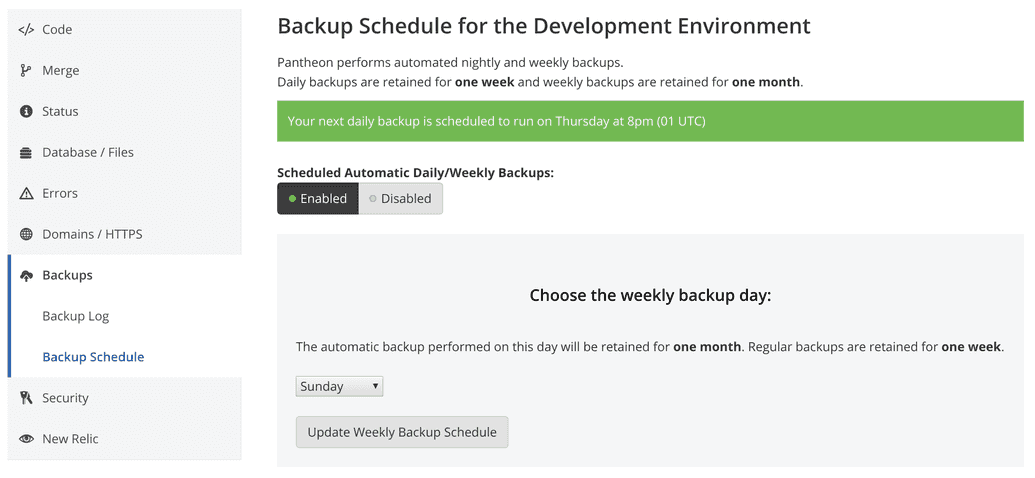 More Resources